Introduction
Are you searching for your ideal home in Panama City? In this article, we will guide you through the finest neighborhoods in the city, showcasing the top locations for purchasing property. Let us embark on this exploration together! Panama City offers a captivating blend of tropical paradise and the benefits of residing in a prominent financial center. Allow us to assist you in making your dream of owning a property in this exquisite destination a reality.
Panama City: The Epicenter of Opportunities
Panama City serves as a prime hub for real estate investment opportunities. Boasting a remarkable skyline and a vibrant lifestyle, it offers an ideal setting for those in search of tranquil living amidst picturesque beaches, verdant forests, and lush jungles. Additionally, the city provides the added advantage of a stable government and a thriving economy, rendering it an appealing destination for foreign investors.
Panama is proudly host to esteemed multinational corporations, including Copa Airlines, Dell, Procter & Gamble, Maersk, Hewlett-Packard Enterprise, Nestlé, and CEMEX. These renowned companies have made substantial economic and social contributions to the country. Their strategic investments in infrastructure, technology, and human resources have stimulated economic activities, bolstered exports, generated employment opportunities, and attracted foreign currency.
According to the Commission of Headquarters of Multinational Companies, two new companies have been approved to establish operations in Panama, with an initial investment of approximately $1,801,224.92. These companies will also create job opportunities, as reported by the Ministry of Commerce and Industries (MICI).
The approval of licenses for these multinational companies, originating from Luxembourg, Colombia, China, and Panama, comes after meeting the requirements established in Law No. 41 of 2007.
Interesting: In Panama, there are more than 170 multinational companies with SEM licenses.
The Best Neighborhoods to Live in Panama City
Islas Ocean Reef is undoubtedly a paradise reserved for those with high purchasing power. With its opulent residences, awe-inspiring sea views, and exceptional services, Islas Ocean Reef presents an ideal destination for individuals seeking to reside in a sophisticated and exclusive environment.
Located in the heart of the Pacific Ocean, this exclusive enclave is a true paradise reserved for those who appreciate privacy, natural beauty, and unparalleled luxury.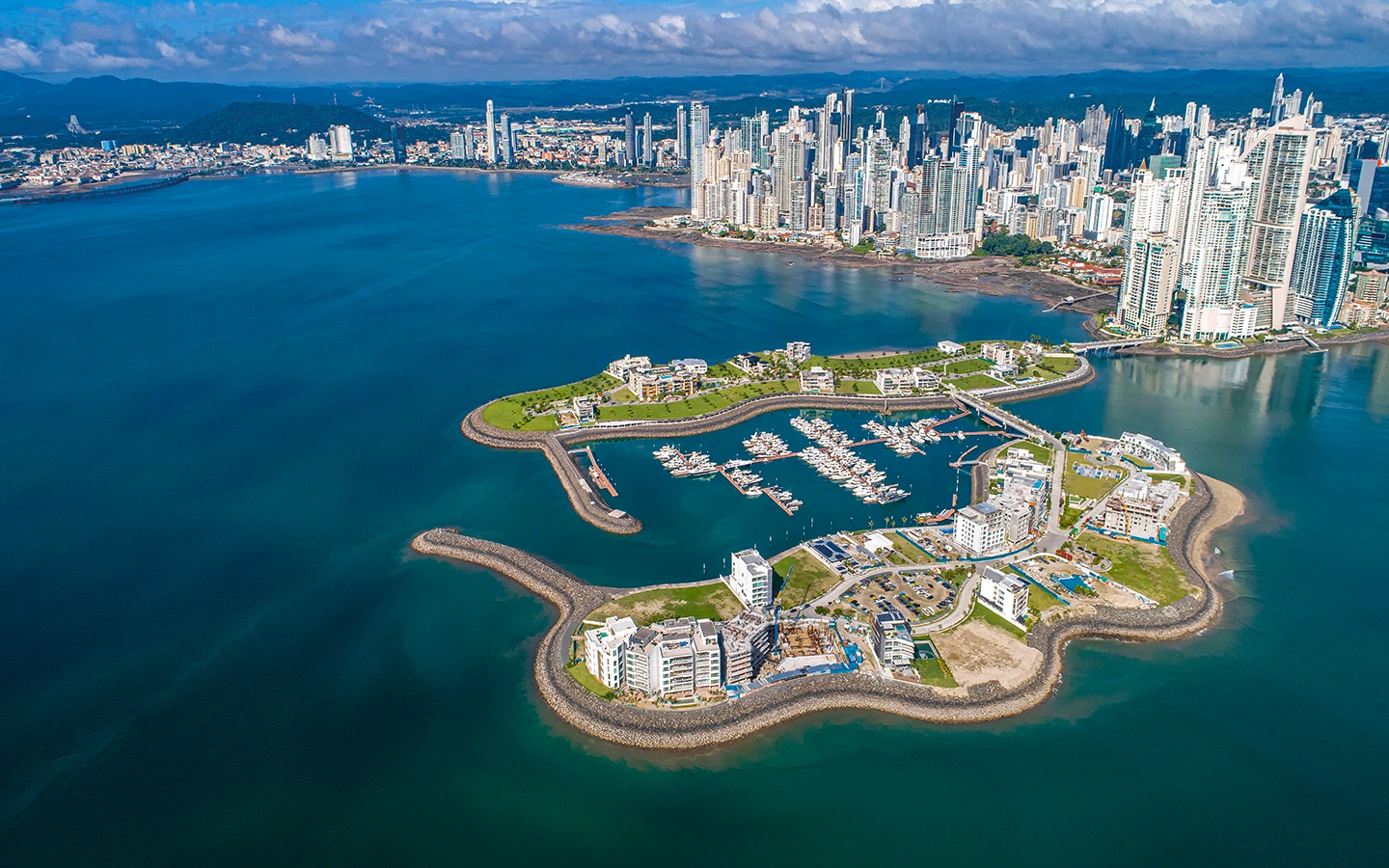 Exclusivity at its Finest
Ocean Reef Islands is synonymous with exclusivity in Panama. This private sanctuary is situated on an isolated private island, far away from the hustle and crowds. Here, residents enjoy an unparalleled level of privacy, surrounded by white sandy beaches, crystal clear waters, and lush tropical vegetation. This exclusivity translates to a tranquil and relaxed living experience, where stress and worries disappear.
Luxury and limitless comfort
The residences at Ocean Reef Islands are true architectural masterpieces. Designed by renowned international architects, these properties represent the pinnacle of luxury and comfort. From elegant seaside villas to spacious apartments with panoramic views, each residence is meticulously designed to offer a dreamlike lifestyle. With high-end finishes, private pools, lush gardens, and direct beach access, these properties are the epitome of luxury and exclusivity.
Ocean Reef Islands takes pride in offering its residents first-class amenities. From private clubs and exclusive spas to world-class golf courses and gourmet restaurants, you will find everything you need to live a life of convenience. In addition, the sanctuary features private marinas for those who wish to explore crystal-clear waters on luxury yachts. Every detail has been carefully thought out to provide an unmatched experience for those privileged enough to call Ocean Reef Islands home.
Security and privacy: Absolute tranquility
Security and privacy are priorities at Ocean Reef Islands. This private sanctuary has a strict 24/7 security system to ensure the residents' peace of mind. Moreover, access to the island is carefully regulated and restricted, guaranteeing entry only for authorized individuals. Within this serene sanctuary, you can relish a life free of concerns, with the assurance that your privacy will be safeguarded at all times.
This prestigious residential neighborhood, located in Panama City, has established itself as one of the most desired destinations for those seeking a comfortable, safe, and efficient living experience.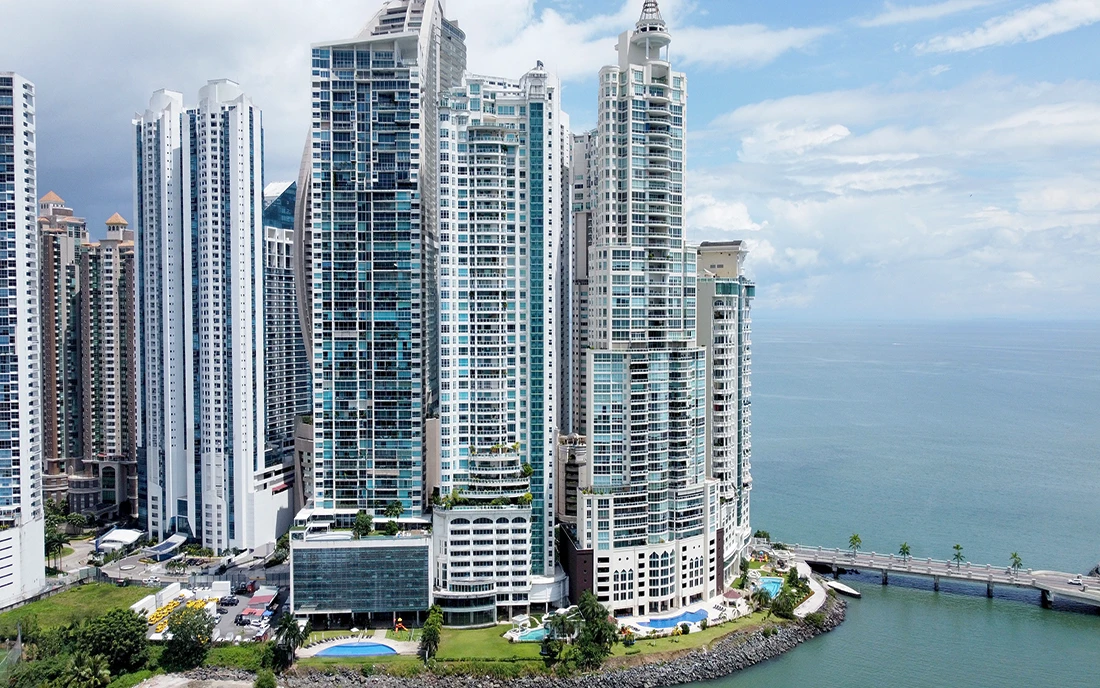 Advantages of living in Punta Pacifica
One of the main advantages of living in Punta Pacifica is its proximity to the financial center of Panama City. This luxury residential area is strategically located near the city's major financial and business districts. Professionals working in the finance and business sectors can enjoy the convenience of living just minutes away from their workplace, avoiding long daily commutes. Additionally, the proximity to major shopping centers, restaurants, and entertainment venues makes Punta Pacifica a convenient and vibrant place for its residents.
cutting-edge infrastructure
Punta Pacifica is known for its modern and cutting-edge infrastructure. In this bustling district, one will discover remarkable skyscrapers boasting modern architectural designs and exquisite craftsmanship. The residential and commercial edifices provide top-of-the-line amenities, including fitness centers, swimming pools, communal spaces, and around-the-clock security services. Punta Pacifica's infrastructure is meticulously designed to offer residents a convenient and opulent living experience with all essential conveniences at their disposal.
Indulge in an unparalleled lifestyle of luxury and comfort in Punta Pacifica. The neighborhood has so many housing options to choose from, like classy apartments or fancy residences with panoramic views of the Pacific Ocean and the city. It's all about enjoying the stunning setting every single day. On top of that, Punta Pacifica offers tons of exclusive services like posh shopping malls, famous restaurants, amazing spas, and top-notch medical centers. All the essential amenities for entertainment and well-being are conveniently located right here in the neighborhood.
Access to Services and Amenities
Residing in Punta Pacifica grants individuals access to a diverse range of services and amenities. The neighborhood is proudly host to the renowned Johns Hopkins Hospital, delivering top-tier medical care on a global scale. Furthermore, the proximity to esteemed shopping centers such as Multiplaza Pacific and Multiplaza Mall provides an abundance of options for shopping, dining, and entertainment. Punta Pacifica is also conveniently located near the picturesque beaches of the Pacific, affording residents the opportunity to relish sunny days and indulge in relaxation mere moments away.
Costa del Este has established itself as one of the top residential destinations in the country. Its carefully crafted urban design and convenient proximity to prominent shopping centers and multinational corporations make it the preferred choice for professionals seeking mobility within the country.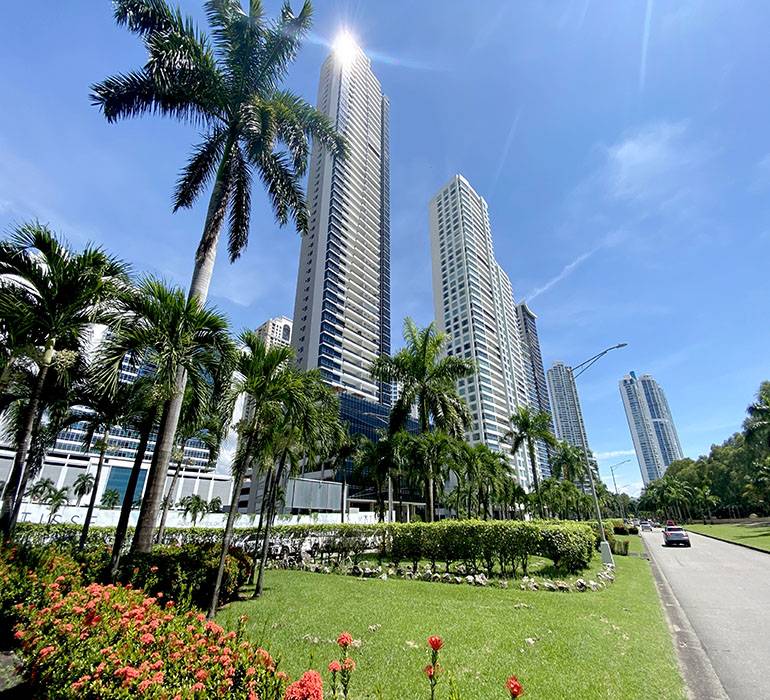 Luxury Residential Structures
One of the main features that distinguishes Costa del Este is its first-world design, characteristic of the country. The residential structures in this neighborhood showcase modern architecture and high-quality finishes. With meticulous design, our properties offer both comfort and style, ranging from luxury condos to spacious single-family homes. Experience an exclusive living environment and enjoy breathtaking views of the sea and city from your new home.
Urban planning and organization
The streets of Costa del Este are known for their organized and well-planned layout. The neighborhood features wide avenues, pedestrian sidewalks, and well-maintained green areas. Additionally, urban planning includes the strategic placement of shopping centers, banks, educational centers, offices, and industrial areas, providing residents with convenient access A wide range of services and amenities is offered. This careful planning contributes to a comfortable and efficient living experience in Costa del Este.
Access to services and amenities
Costa del Este has got you covered with an array of services! You'll find awesome shopping, dining, and entertainment options at renowned shopping centers like Towncenter. The neighborhood is also home to major multinational companies such as Diageo Panama, S.A., Deloitte, Inc., and Copa Airlines. Additionally, the proximity to Hospital Pacifica Salud ensures quality healthcare for residents.
Strategic location and transportation connections
Costa del Este enjoys a strategic location with an impressive ocean view and access to major highways. Its proximity to the city center and Tocumen International Airport is an added advantage for residents who frequently travel. This privileged location facilitates mobility and access to other important areas of the city, making Costa del Este a convenient choice.
Santa Maria stands out as one of the best places to live, especially for families with children. With its focus on comfort, safety, and quality lifestyle, Santa Maria provides an exceptional residential experience. Surrounded by green areas and top-notch commercial spaces, this neighborhood offers its residents a perfect combination of modernity, well-being, and luxury.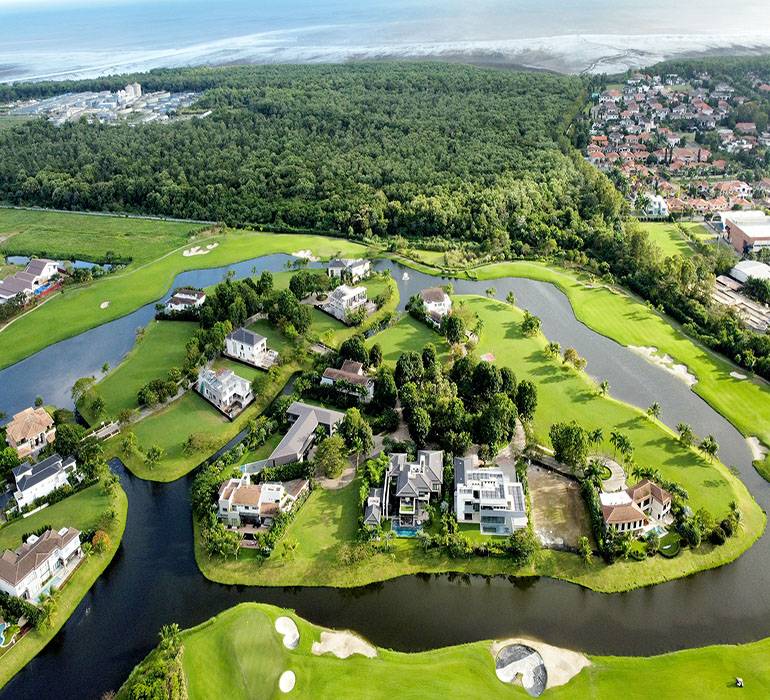 Family-Friendly Environment: Perfect for Families with Children
Santa Maria is a thoughtfully planned residential neighborhood that prioritizes the needs of families. Featuring wide streets, meticulously maintained pedestrian sidewalks and abundant green spaces, it provides a secure and enjoyable environment for children to partake in play and exploration. In addition, it has parks and recreational areas, creating ideal spaces for families to enjoy outdoor moments together.
The proximity to renowned schools with top-notch education programs such as:
– The Metropolitan School of Panama

– Colegio Brader

– King's College Panama

– International School of Panama
Comfort and Security: Part of the Lifestyle
Comfort and security are fundamental elements in the Santa Maria lifestyle. With a focus on urban planning and security, residents can enjoy a peaceful and relaxed life. The neighborhood boasts cutting-edge security systems, 24/7 surveillance, and limited access, guaranteeing residents' peace of mind. Additionally, its strategic location in close proximity to essential amenities such as supermarkets, shopping centers, and healthcare facilities ensures a convenient and seamless daily living experience.
Spaces Surrounded by Green and Commercial Areas
Santa María takes pride in its focus on modernity and well-being. Residents can enjoy architecturally modern spaces surrounded by quiet and relaxed life. The neighborhood offers advanced security systems, 24-hour surveillance, and controlled access, ensuring residents' peace of mind. Moreover, its proximity to essential services like grocery stores, shopping malls, and healthcare centers provides a convenient and hassle-free daily living.
Spaces by greenery and commercial areas
Santa Maria prides itself on its focus on modernity and well-being. Residents can enjoy architecturally modern spaces surrounded by lush greenery. The neighborhood boasts parks, gardens, and pedestrian trails that invite residents to enjoy nature and maintain an active lifestyle. Additionally, it features the Business District, a hub for businesses, and the Village Center, an exclusive central plaza that offers a wide range of services and amenities just steps away.
Santa Maria Club and Paddle Courts
The amenities in Santa Maria are meticulously crafted to cater to the most discerning individuals. The neighborhood proudly features the renowned Santa Maria Club, which offers state-of-the-art sports facilities, entertainment, wellness programs, and exclusive services. For golf enthusiasts, the 18-hole course expertly designed by Nicklaus Design promises an exceptional golfing experience. Moreover, the paddle courts provide an excellent option for those seeking to engage in recreational sports while maintaining an active lifestyle.
Conclusion
Panama presents a diverse selection of real estate investment opportunities, with each location boasting distinct attributes that appeal to various types of investors and residents. These unique characteristics make these destinations highly attractive for those seeking lucrative investments and desirable living environments.
From Ocean Reef Islands, where luxury and privacy are paramount, to Punta Pacifica with its proximity to the financial center and luxurious lifestyle, to Costa del Este with its planned urban design and top-notch amenities, and Santa Maria, which stands out as a perfect place for families with a multitude of services and green spaces. Whichever location you choose, Panama offers a pleasant environment, security, and high quality of life to enjoy. Don't miss the opportunity to invest in your own paradise in Panama.